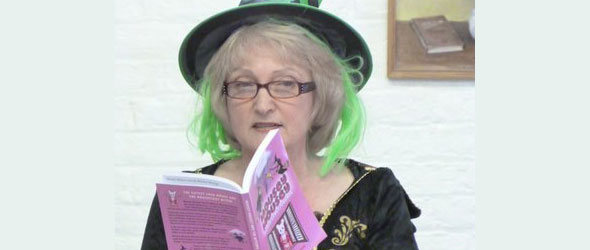 Children's author Heather Flood's heroine Mousey Mousey has been hailed by fellow authors, children and parents as the cutest mouse ever – topping Walt Disney's Mickey and Minnie and the little mouse in The Gruffalo!
Heather's adorable characters from Mousey Mousey and the Witches' Revenge have become cult figures with many children, whose new craze is to go to parties and school functions dressed in mouse's ears and witches' hats.
Elizabeth Wright, author of 'Belle Tout – The Beachy Head Lighthouse that Moved' and 'From Fancy Pants to Getting There', says: "The adorable Mousey Mousey could become as big a favourite as the legendary Mickey and Minnie – but she is fresh and original and the cutest mouse ever.
"With a mixture of talking rabbits, squirrels, moles and badgers, spell-casting witches and page-turning action, Heather has surely got a winner here."
Fellow children's author Claire Carpenter declares: "Mousey Mousey can become one of the most famous, most popular fictional mice, while Agatha, Heather's other main character in her Mousey Mousey series, must rank as one of the most mischievous witches." Claire, the author of 'Hold on Tight' and 'Something Odd…', adds: "No wonder children adore the wonderful characters in the Mousey Mousey books, including delightfully funny witches Stinkblob and Mouldy Knickers and a joke-telling vampire."
Emmy Yoshida, author of Corrupted, predicts: "With characters as endearing and magical as some of Beatrix Potter's, and the adventurous spirit of an Enid Blyton classic, Mousey Mousey and the Witches' Revenge is a story which I'm sure children will request time and time again."
Kirsty Curtis says: "My children Ashlee and Gabrielle adore the Mousey Mousey books and go around dressed as Mousey Mousey and the witch Agatha, who have become their new favourite characters. They went to school with their friend Katlyn in 'Book Week' dressed as Mousey Mousey and Giant Sticker Monster, another of Heather's zany characters."
Fans of Mousey Mousey now include the Mayor of Eastbourne Cllr. Mike Thompsonand his wife Linda, who purchased Mousey Mousey at its recent book launch.
Rex Sumner of My Voice Publishing of Eastbourne comments: "We have discovered two excellent children's authors in Heather and her husband Tony.
We have also re-published Tony's adventure book The Secret Potion, which has been recommended by actress June Whitfield as being ideal for Harry Potter fans."