Once Upon A Time there was a unique and stylish mini-break for the brain and body that was all about books…The Reading Weekend gives you exclusive access to one of the most exciting authors of today in a beautiful place with like-minded people. Enjoy intimate readings, bibliotherapy sessions and serious relaxation in luxurious surroundings. It's one story you won't want to end.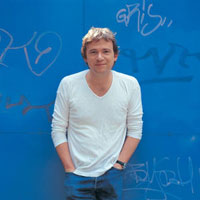 Reading Weekend at
Turnberry, A Luxury Collection Resort, Scotland
Hosted by Damian Barr
With Guest Author David Nicholls
March 25-27th 2011
"A bookish paradise," Evening Standard
"A bohemian getaway," You Magazine, Mail on Sunday
We're thrilled to announce your Guest Author for the Reading Weekend at Turnberry, A Luxury Collection Resort, is novelist and screenwriter David Nicholls. He shot to fame with 'Starter for Ten' which became the hit movie starring James MacAvoy. His third novel 'One Day' is currently breaking hearts and charts around the world and has sold over half a million copies in the UK alone. Anne Hathaway starts in the movie which is out in July 2011. He'll be reading to you exclusively and answering your questions.
Turnberry is located on the stunning Ayrshire coast, offering elevated views over the Irish Sea, Ailsa Craig and mountains of Arran and Kintyre. This five star resort recently underwent a multi-million pound renovation becoming part of Starwood Hotels & Resorts much acclaimed Luxury Collection. With 150 swanky-but-comfy guest rooms, a choice of unique dining experiences, inviting spa offering a range of ESPA treatments and the onsite Outdoor Activity Centre, a whole world of adventure awaits at Turnberry. You may not get time to read!
Your host for the weekend is journalist, writer and playwright Damian Barr. Writing in the Times for over 10 years, Damian has co-written two plays for BBC Radio 4. He hosts the now infamous Shoreditch House Literary Salon where he's interviewed writers including Louis de Bernieres, David Mitchell and John Waters. People love the Salon so much, he extended it into the Reading Weekend. Other Reading Weekend venues include Tilton House in East Sussex and various Caribbean resorts and past Guest Authors include Geoff Dyer, Naomi Alderman and Diana Athill.
On the Reading Weekends we are also joined by Ella Berthoud, a bibliotherapist who works with the School of Life—she'll be getting to know you and your reading habits. Your weekend includes a free 1-2-1 session where she'll confidentially discuss what you do (and don't) like reading. After the weekend you'll receive your personalised reading prescription!
Itinerary
Arrive Friday afternoon on our recommended flight and we'll collect you for free from nearby Glasgow airport (if you catch another flight there's a transfer fee involved or you can make your own arrangements). You're greeted by a friendly kilted Scotsman on arrival at Turnberry. Walk in, drop your bags and your stresses. Down a welcome drink while admiring the amazing view out across the west coast of Scotland. Meet your fellow Reading Weekenders while enjoying a casual supper (wear your pyjamas if you like, I will). We'll be joined by bibliotherapist Ella Berthoud—she'll start getting to know you and your reading habits. When you're feeling full and tired Damian will read bedtime stories before tucking you all in.
Awake refreshed on Saturday and explore the hotel and gardens—snuggle down by the fire or take a bracing walk on the beach—you can see Ailsa Craig, The Island of Arran and even Ireland on a clear day. Enjoy your free session with the bibliotherapist and get out of that reading rut. If you fancy a literary excursion, Damian will be taking a trip out to the newly opened Robert Burns Birthplace Museum (no extra charge). On Saturday evening Hendrick's Gin—which is distilled just a few miles down the road—will present a special cocktail reception. After Hendrick's cocktails, David Nicholls will read to us and you'll have the chance to ask questions and get the gossip on the film of One Day. Then it's time for dinner in Brown's Room. Executive Chef, Ralph Porciani and his brigade are pulling out all the stops to present the finest contemporary take on local, seasonal Scottish food—there will be no deep-fried chocolate bars!
Sunday morning is breakfast with the papers. We'll then take a walk along the beach to blow away any remaining cobwebs or hangovers from the night before. After that it's back for another delicious lunch and an afternoon of reading and relaxing before you return to the real world. If you fancy a swim or a spa treatment don your dressing gown and pop along to The Spa at Turnberry (treatments at your own expense).
There are only 15 places for the Reading Weekend at Turnberry. It's a pretty all-inclusive weekend of gorgeousness. Included is: your transfer to/from Glasgow Airport (provided you take the recommended flight); welcome drink and dinner Friday night; breakfast, lunch, cocktail and dinner Saturday with optional trip to Burns Museum; breakfast and lunch on Sunday. There's tea and coffee in your room. Bedtime stories, bibliotherapy and Salon are all also included. The only 'extra' you pay for is wine with meals and any additional drinks/meals/spa treatments.
The price is just £385pp (based on two sharing). If, like Virginia Woolf, you prefer a room of one's own the cost is £470pp. If you want to upgrade to a Deluxe Ocean View Room the cost is £100 per room per night, regardless of occupancy. We'll even put a book on your pillow so you don't have to pack one!