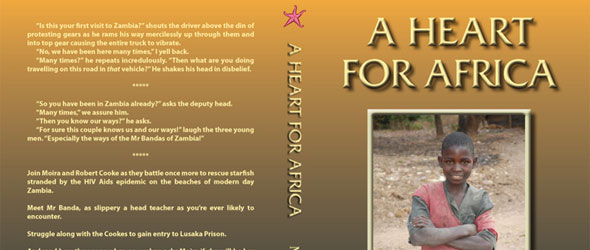 What makes an African person? Do they have to have black skin, to have been born there, or to have had African parents? None of which incidentally apply to Moira Cooke, author of 'A Heart for Africa'.
Being an African person means being tough when faced with situations, like the time an orphaned girl of eight asked Moira if she would be her mother. It means making tough decisions, like why the Tanworth Starfish Fund, the charity run by the Cookes, can pick up this particular starfish but not that one. It means knowing how to react when a wrinkled old villager, or a prisoner on a manslaughter charge, or a community desperate for a school, a clinic and a borehole says, and with absolute conviction, "God has sent you to us!"
Yet, as the title suggests, you have to have a real heart for the place in order to keep going back and back to a continent where there is so much suffering and where, what charity workers like Moira and husband Robert achieve, may at times seem like no more than a drop in the ocean of human suffering.
Yet this, Moira's second book, is no dreary tale of hardship and poverty. Nor is it simply a liturgy of praise for the charity work the Cookes have done in both rural and urban Zambia. Rather it is a warts and all look at life in twenty-first century Zambia. Think the insight of Alexander McCall Smith combined with the adventurous spirit of Bill Bryson, and a dash of the passion of Karen Blixen to season the mix. If you enjoyed Moira's first book, 'Bwanakula Thandi', then this second book, telling the story of the rest of the Starfish projects in Zambia, is a more than worthy follow up.
Read about Mr Banda, as slippery a head teacher as you're ever likely to encounter. Empathise with pint-sized George, the ex high court judge now become chef, who sees off the white opposition. And laugh and cry along with Mr Chipotyo, the size of whose personality is perhaps only surpassed by the size of his glasses. Above all, muddle through with the Cookes as they work out what to do with the gift of a live and kicking goat or get stranded for five hours out in rural Zambia.
'Moira has an engaging and pacey style of writing, as well as being moving, interesting and thought provoking. 'A Heart for Africa' is entertaining too and well worth a read. I know I bought it!' Val Jennings Team Times November 2011.